Strategic Analysis
Schedule-IV Listed Individuals
Reference #: FM/Proscribed Individuals- Schedule-IV ATA, 1997 /2018
Objective
The focus of the study was to analyze the transaction patterns, demographic and professional profile of the individuals proscribed under Schedule-IV of ATA 1997(which is the law that deals with domestic listing under UNSCR 1373 in Pakistan)
Background of analysis
The analysis was carried out on the basis of significant number of suspicious transactions reports submitted by the banks in the pretext of listing of various individuals under Schedule-IV of ATA 1997.The break down of the reports analyzed for the study is given in Figure 1 below;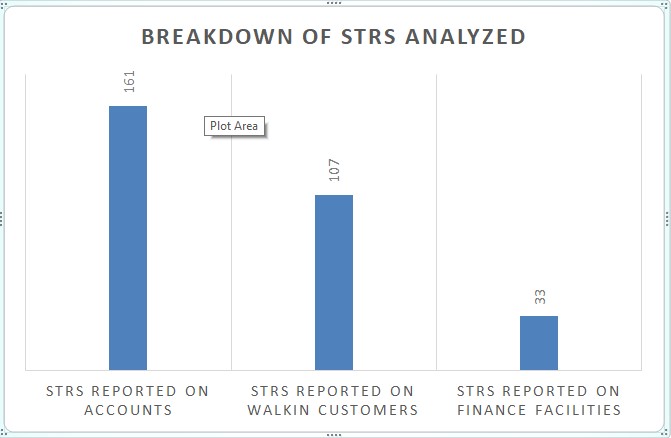 Findings of the Study
The key findings derived from this study are as follows;
These individuals are not limited to only one geographic location of the country.
They are from all walks of life such as salaried, businessman, farmers, students and some of them reportedly found PEPs as well.
Some of the individuals are also found working/ have affiliations with trusts and charitable organizations.
These individuals are not only maintaining accounts in conventional banks but are also using the channel of branch-less banking.
They are also receiving remittances through banks over the cash counter i.e. as a walk in customer.
During analysis it has also been noticed that some of the individuals listed on Schedule -IV of ATA, 1997 have performed repeated remittance transactions over the counter of the banks.
They had also conducted transactions in the branches of other cities i.e. other than their home city provided on CNIC.
Some of the individuals are holding more than one bank account.
Through some bank accounts it has also been reflected that individuals listed on Schedule IV of ATA, 1997 are maintaining joint accounts with other individuals and/ or holding mandate in it.
During analysis of the reported transactions it has been noticed that these individuals were also using credit card, demand finance, car finance, demand draft and micro finance facilities of the banks.
The financial institutions have taken actions in accordance with the Anti-Terrorism Act, 1997 upon proscription of persons.
Based on above findings the analysis was shared with law enforcement agencies for probing of matter and necessary actions.