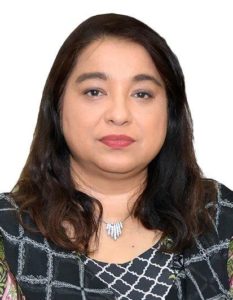 Ms. Lubna Farooq Malik is Director General, Financial Monitoring Unit (FMU)-The FIU of Pakistan, since July 2020. Prior to this assignment Ms. Lubna Farooq was the Managing Director of Deposit Protection Corporation.
Ms. Malik possesses over all 28 years' experience in financial sector in Pakistan including vast experience as Central Banker in State Bank of Pakistan where she headed core departments of Banking Supervision and Policy.
Ms. Malik possesses MPA Degree from Harvard Kennedy School at Harvard University.
As Head of FIU, Ms. Lubna's responsibilities include managing and supervising the FMU. In addition, Ms. Lubna is also focal person from Pakistan on Pakistan's FATF Action Plan, APG Mutual Evaluation Report and all AML/CFT matters.